Second grade teacher Kendra Brauer has taught at Barkstall Elementary School in Champaign for the last four years after stops in Oswego, Kingston, and Lexington, S.C.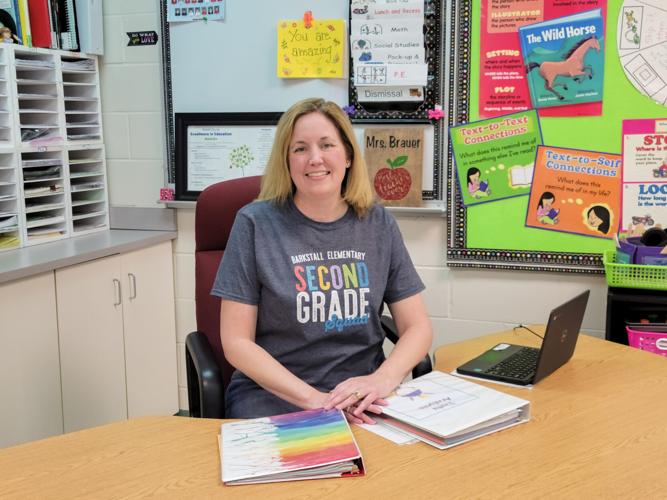 Going back to her days as a student, Kendra Brauer always had a passion for helping kids learn.
Back then, it meant helping out her classmates with assignments. Now, it means instructing second-graders at Barkstall Elementary School in her 21st year as a teacher.
She's made stops in Oswego, Lexington, S.C., and Kingston before winding up at Barkstall in Champaign for the last four years.
"I am constantly impressed by her communication with us as parents, how she handles situations within the classroom, and the delicate balance she has between being firm yet compassionate to her students," said Brooke Newell, parent of one of Brauer's current students.
I find my work important because ... second grade is such a crucial year for students as they transition from learning to read to reading to learn. Students also start realizing who they are as a learner. I enjoy teaching my students about growth mindset and using positive thinking to overcome difficult tasks. Teaching second grade is so important because I give them the tools they need to be successful as they transition into upper grades.
I became a teacher because ... I loved school as a child and want children to love learning as much as I do. Even when I was a student, I loved helping other students with their work and wanted them to be successful. My former teachers' comments often started out with "Kendra is my right-hand woman ..." I have fond memories of being at school and want my students to have those same feelings when they leave my classroom.
My favorite/most unique lesson that I teach is ... Balloons Over Broadway, a STEAM project. The students learn about the origins of Macy's Thanksgiving Day Parade and work in groups to design their own storybook balloon character. Then, the students participate in their own parade for the school and parents to view. It has become a tradition at Barkstall!
My other favorite classroom time is reading to my students. Whether it is a poem, fun picture book or a chapter book, I always make sure to find time to read to my students. No matter how busy our day is, there is always time for a read aloud!
My most fulfilling moments on the job are when ... I love it when my students tell me "I've got this" and want to finish the task on their own. I enjoy that feeling of watching them take off and see that look of pride when they accomplish something independently. It is also fulfilling to watch my students work together. Building a community within the classroom is very important to me, so when my students step up to help each other be successful, I feel that I am also creating caring individuals.
I keep students engaged by ... making lessons accessible to all students through differentiated instruction. That is key. When students are feeling successful, they want to show what they know. I establish consistent routines and schedules so my students feel safe in the classroom but vary the way students complete assignments and add different movement activities to keep them focused.
Something else I'm passionate about is ... sports! My family and I enjoy attending games and cheering on our favorite teams. Our family vacations often involve a trip to a ballpark, stadium or arena. I also love cheering on my son and daughter and even attend my students' games when my schedule allows.
My favorite teacher and subject to study in school was ... I have been so lucky to have many great teachers in my school career. I still remember every one of my elementary teachers' names. My third-grade teacher, Mrs. McKinney (Calvert City Elementary in Calvert City, Ky.), was my favorite teacher. She let me take home discontinued textbooks so I could play school and had many fun projects that I incorporated into my own classroom.
My favorite subject in school was social studies/history. I love learning about the past and was fascinated by reading the personal stories of people's experiences from different time periods.
If I weren't a teacher, I would be ... that would mean I am either retired or the latest Powerball winner! I honestly can't see myself anywhere else other than in education. As stressful as a teacher's job is, I feel that I am still making a difference and want to be in the classroom.
— Anthony Zilis