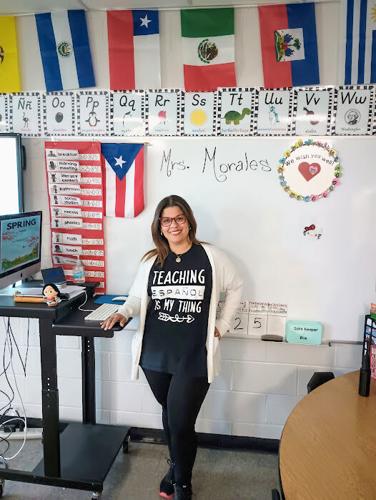 After moving to Rantoul 10 years ago from her native Puerto Rico, where she was a school social worker, Iris Morales wanted Latino students in her new community to feel represented by their teacher. So five years ago, she began working at Pleasant Acres Elementary School.
For the last two years, she's worked as a bilingual fourth- and fifth-grade teacher at the school.
"Ms. Morales has worked very hard to establish the best classroom environment in her room," Principal Samantha Sebestik said. "It is full of fun, engaging and culturally relevant activities. Her students feel valued and love coming to school. It has been an honor to have Ms. Morales in our Pleasant Acres school family."
I find my work important because … we can make a difference in our children both academically and socially.
I became a teacher because … I wanted Latino students to feel represented and comfortable with their culture by having a Latino teacher who could share their native language and customs.
My favorite or most unique lesson that I teach is … My favorite lesson is Spanish, as students are able to maintain the Spanish language so they can communicate with their parents and grandparents who are not fluent in English. As they are bilingual when they enter the world of work, they will have more opportunities to be able to speak and read in two languages.
My most fulfilling moments on the job are when … we celebrated Hispanic Heritage Month, and I get to see their happy faces when we talk about their countries of origin, their culture, food and traditions.
Something else I'm passionate about is … that my students, in addition to learning, can feel safe, confident and with the desire to return to their classroom the next day.
My favorite teacher and subject to study in school was … I couldn't say it was just one, because it would be difficult. I always remember my kindergarten teacher at University Garden School, Mrs. Flores, taught us with love. In high school, at the Caguas Military Academy, I remember my science teacher, Mrs. Carire, who encouraged us to participate in the science fair, and we got to participate in the regional ones, and Mrs. Alamo, social studies teacher, when she taught us about the electoral processes. We ran for governor, presented and defended our proposals, and went through the voting process. Experiences that I don't forget.
If I weren't a teacher, I would be … a social worker, because I love being a resource to help others.
— Anthony Zilis