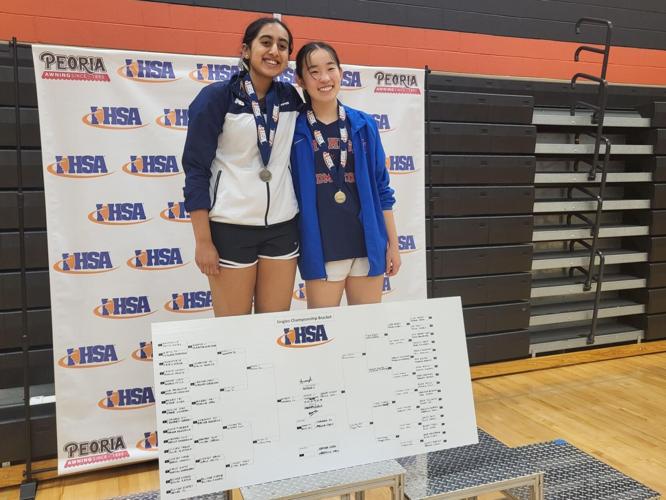 Buy Now
Uni High junior Andrea Li, right, poses for a photo with Neuqua Valley's Hannah George following Li's win in Saturday's IHSA girls' badminton singles state championship match at DeKalb High School. George placed runner-up.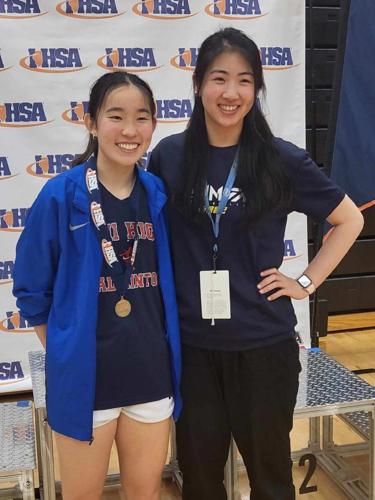 DeKALB — It had been a while since Andrea Li dropped a set during an IHSA girls' badminton postseason match.
Entering Saturday, the last time this happened was in the 2021 singles state-championship match against Naperville North's Bhaavya Manikonda.
Then a Uni High freshman, Li ultimately finished second in her first IHSA state tournament behind Manikonda.
Li swept all of her sectional and state singles matches in two sets during her sophomore season in 2022 en route to an IHSA state championship.
The Illineks junior appeared on her way to the same outcome this year, too.
Neuqua Valley sophomore Hannah George had other ideas.
A regular practice partner of Li's at the Chicagoland-based Egret Badminton Club, George beat Li 21-13 in the first set of Saturday's IHSA girls' singles state final inside DeKalb High School.
"It goes both ways: I know her, and she knows me," Li said. "It definitely made for a close match."
One in which Li ultimately was able to prevail.
Li rallied to win the next two sets against George by 21-9 and 21-19 margins, earning Li her second consecutive singles state championship.
"It felt really great," Li said. "Everyone likes to root for the underdog — me included. So it was definitely tougher and more pressure to go in having won it last year."
Li felt her foot speed was lacking during the opening set versus George, which followed quarterfinal and semifinal victories earlier Saturday versus Illinois Math and Science sophomore Carissa Chen (21-8, 21-19) and Naperville North senior Shannon Xu (21-9, 21-8).
"Style-wise, I often end up in those situations," Li said. "But I was really glad I was able to pull through. ... I just wasn't in the right mode (to start the championship match). Second set, I got my speed up. I was more proactive, trying to take the initiative at the net, and I think it made a difference."
Part of Li's challenge in overcoming George was born from the quality of competition George offers. But another part emanated from the rooting section George brought with her to DeKalb.
"I had my parents, my coach (Uni High athletic director Kyle Hummel) and maybe one or two friends," Li said.
"You have the whole gym cheering for (George). ... I had to adjust, especially after losing the first game and seeing everyone else celebrate that."
Li didn't let this bother her. It's all part of the sport, after all.
"I just try to zone it out and focus on the game," Li said. "It definitely had a little bit of an impact."
Not enough of one to prevent Li from becoming the second consecutive athlete to repeat as an IHSA girls' badminton singles state champion.
Naperville North's Manikonda, who knocked off Li in the 2021 final, also won the 2019 singles title before Li began high school. The 2020 tournament was canceled because of the COVID-19 pandemic. Li now has the opportunity to vie for three state championships in a row come spring 2024.
She got to have her photo taken during Saturday's post-match celebration with the most recent individual to pull off this accomplishment. Former Lyons standout Stephanie Lin was the IHSA girls' singles state titlist in 2013, 2014 and 2015.
"The funny thing is I see her dad a lot at other tournaments I play, because he's an official," Li said. "It was nice talking to her."
Li didn't have any grand plans for the rest of the weekend. She attended "a nice restaurant" for dinner with her parents on Saturday night.
Next on the docket? A drive east from DeKalb to the Chicago area for a Sunday practice at Egret Badminton Club.
"The rush doesn't stop," Li said with a laugh.
Colin Likas is the preps coordinator at The News-Gazette. He can be reached at clikas@news-gazette.com, or on Twitter at @clikasNG.